Take a look at what your neighbors have been up to recently in our community.
Back to School Drive Huge Success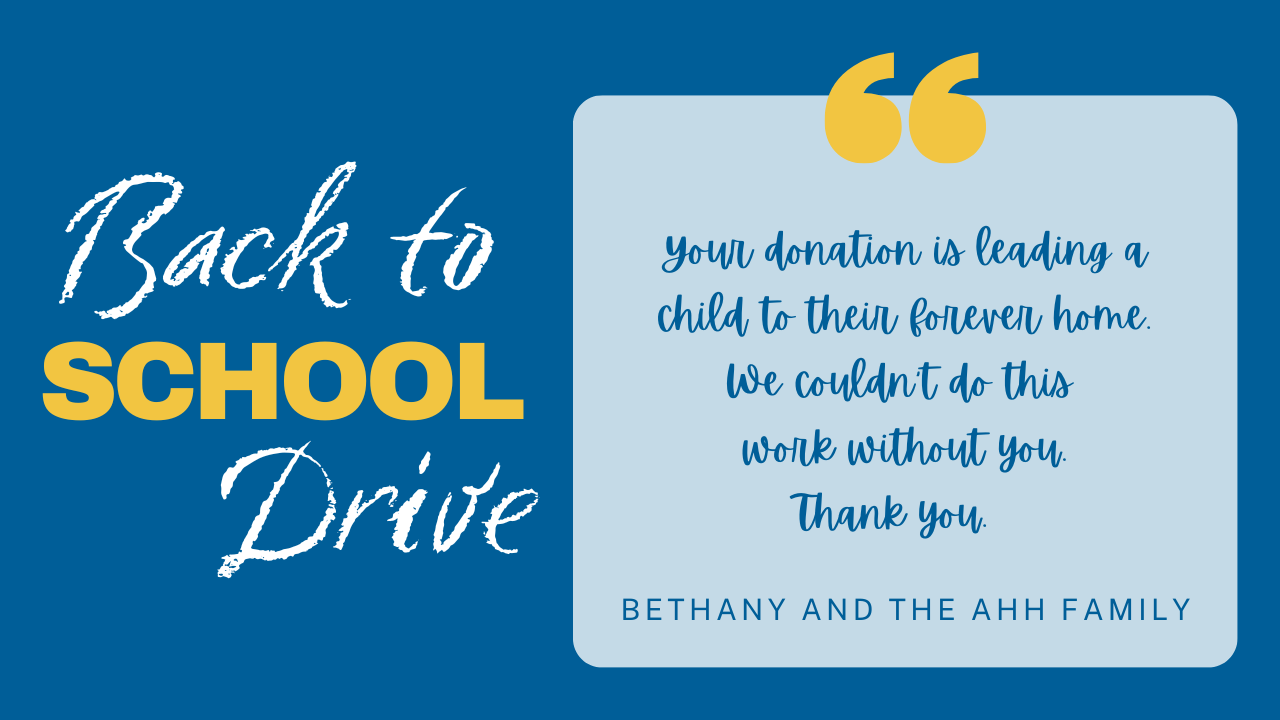 RBAZ collected cash donations of $720 during our Back-to-School Drive benefiting Arizona Helping Hands. That amount equals over 20 fully supplied backpacks for Arizona's foster children. In addition to the cash donation, RBAZ also donated a box filled with backpacks and supplies plus 5,000 sheets of paper! Thanks to all who supported the drive with donations of cash, backpacks and supplies!
Flash Food Drive Now Through May 18!
Shortages, rising food costs and a devastating pantry fire destroying 50,000 pounds of food has created a shortfall for St. Mary's Food Bank. The RBAZ Culture Club is holding a FLASH FOOD DRIVE on May 11 to help mitigate the rising need for nonperishable foods. We're asking for donations of 5 nonperishable food items or $5 (which will provide 35 meals by leveraging St. Mary's partnerships with other businesses). Want to help? Bring your donation to our Phoenix or Scottsdale location through May 18.
Too Much Citrus? Culture Club Can Help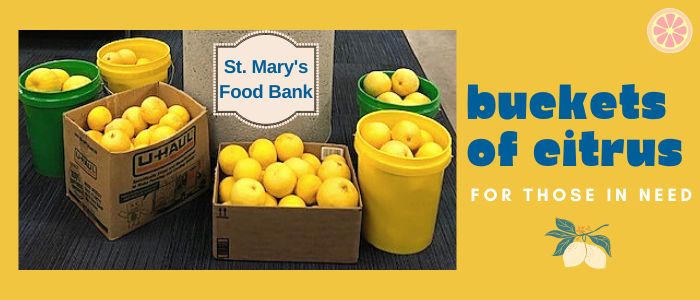 Are your citrus trees overloaded with more citrus than your family can consume? Bring your extras to our Phoenix or Scottsdale offices and we'll make sure they go where needed. Your excess citrus can provide important nutrition for Arizona's hungry throughout the state. The RBAZ Culture Club is accepting citrus donations through April 8, 2022 to benefit the St. Mary's Food Bank Citrus Drive. Thank you for helping us help others in our community.
Culture Club Champions Heart Health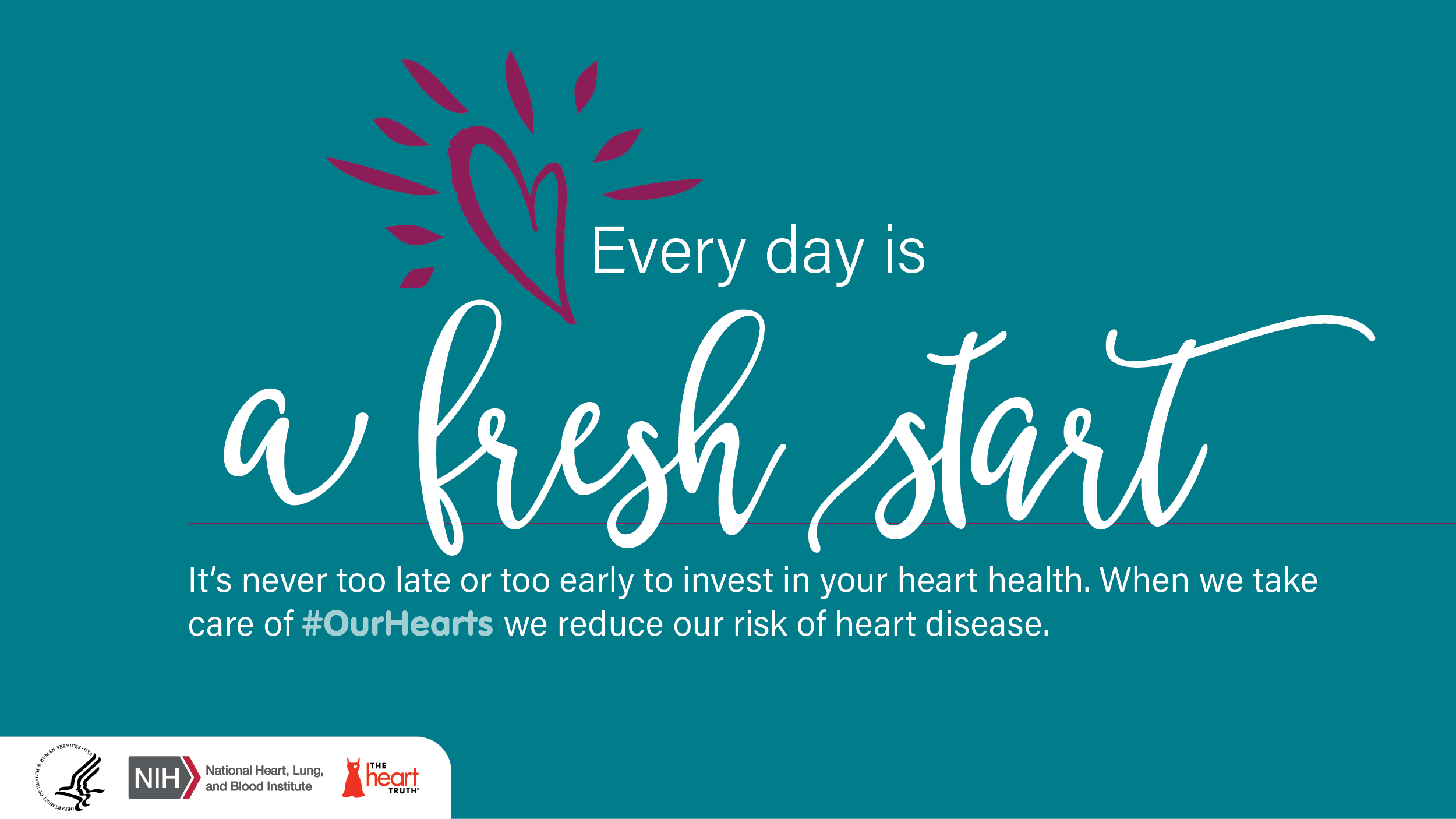 Part of the mission of Republic Bank of Arizona's Culture Club is supporting the health and wellness of its employees. February offers us a great opportunity to focus on and promote heart-healthy behaviors in support of American Heart Month.
"A shocking statistic I just learned is that heart disease is more deadly than ALL forms of cancer combined," says Chief Credit Officer Amy Lou Blunt who heads the Bank's Culture Club. "And while often considered to be a condition of the older generation, heart disease and associated illnesses are on the rise across all age groups."
Below is an article from the National Heart, Lung, and Blood Institute on simple ways to keep your heart healthy.
February is American Heart Month!
Did you know that people who have close relationships at home, work, or in their community tend to be healthier and live longer? One reason, according to the National Heart, Lung, and Blood Institute (NHLBI), is that we're more successful at meeting our health goals when we work on them with others. NHLBI launched the #OurHearts movement to inspire us to protect and strengthen our hearts with the support of others.
Here are some facts, how-to tips, and resources to inspire you to join with others, even if you can't be physically together, to improve your heart health.
Heart disease is a leading cause of death for both men and women in the United States. Most middle-aged and young adults have one or more risk factors for heart disease, such as diabetes, high blood pressure, high cholesterol, or being a smoker or overweight. Having multiple risk factors increases your risk for heart disease.
Why Connecting is Good for Your Heart
Feeling connected with others and having positive, close relationships benefit our overall health, including our blood pressure and weight. Having people in our lives who motivate and care for us helps, as do feelings of closeness and companionship.
Follow these heart-healthy lifestyle tips to protect your heart. It will be easier and more successful if you work on them with others, including by texting or phone calls if needed.
Be more physically active.
Maintain a healthy weight.
Eat a nutritious diet.
Quit smoking.
Reduce stress.
Get 7-8 hours of quality sleep.
Track your heart health stats.
You don't have to make big changes all at once. Small steps will get you where you want to go.
Move more
Invite family, friends, colleagues, or members of your community to join you in your efforts to be more physically active:
Ask a colleague to walk "with you" on a regular basis, put the date on both your calendars, and text or call to make sure you both get out for a walk.
Get a friend or family member to sign up for the same online exercise class, such as a dance class. Make it a regular date!
Grab your kids, put on music, and do jumping jacks, skip rope, or dance in your living room or yard.
How much is enough? Aim for at least 2½ hours of physical activity each week—that's just 30 minutes a day, 5 days a week. In addition, do muscle strengthening exercises 2 days a week. Can't carve out a lot of time in your day? Don't chuck your goal, chunk it! Try 10 or 15 minutes a few times a day. NHLBI's Move More fact sheet has ideas to get and keep you moving.
RBAZ "Christmas Angels" Bringing Joy to Local Kids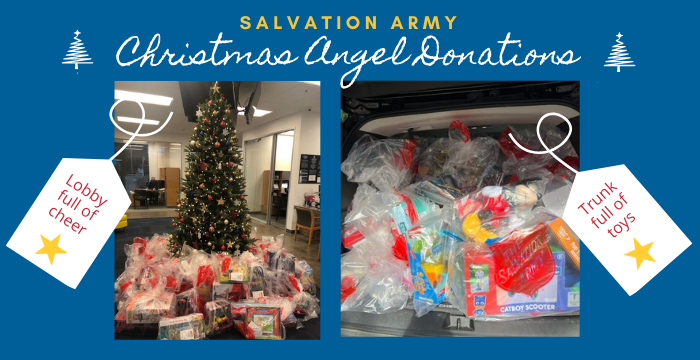 Republic Bank of Arizona's "Christmas Angels" were busy buying and bagging toys for the Salvation Army's Christmas Tree Angel program. Both the Phoenix and Scottsdale offices participated to provide holiday gifts for 50 local children. Thanks to the Bank's Culture Club for organizing the program, and thanks to all the "Christmas Angels" for making a local child's holiday season a bit brighter this year.
Annual Food Drive in Full Swing

November 2021
The RBAZ Culture Club is collecting canned food and other non-perishable food items to support the St. Mary's Food Bank's mission to end hunger in Arizona. Join our efforts by making a donation at our Phoenix or Scottsdale location now through November 30. Thank you for helping us support our local nonprofit organizations, our communities, and those in need.
Summer Water Drive Supports Those in Need
September 2021
The RBAZ Culture Club is collecting water and monetary donations to support The Salvation Army's Emergency Disaster Services heat relief program. This campaign supports the Extreme Heat Emergency Plan during the hot summer months across the Valley of the Sun. We're collecting much-needed water and funds to help those who suffer through the extreme heat conditions the most – people without a cool place to go during the most excruciating time of year in the Valley.
Donations are being accepted at both our Phoenix and Scottsdale locations until September 30. Thank you for helping us support our communities.
Suited Up: Men's Career Clothing Drive Huge Success
September 3, 2021
The RBAZ Culture Club collected and delivered racks on racks of men's career clothing to the St. Joseph the Worker Career Closet at 19th Avenue and Bethany Home Rd. The closet provides clothing to help men preparing for job interviews, starting new employment, or attending job training. The staff at St. Joseph the Worker were "blown away" by the size of our donation. Thanks to all who participated!
Donations and Drives: Gladly Giving Back to our Local Communities
May 11, 2021
Republic Bank of Arizona has been busy supporting the community during the past several months. Here are a few of the community activities we've engaged in recently.
Helping AZ Students: We're proud to support the Arizona Tuition Connection, an outstanding nonprofit organization dedicated to providing scholarships for low-income students. We recently donated $12,000 towards tuition scholarships, bringing our total donations to $47,000. We appreciate all they do to help students in our community. To learn more about the Arizona Tuition Connection, check out our client spotlight.
Support for Veterans and their Families: RBAZ CEO Brian Ruisinger recently presented a $250 check to Helping Hands for Freedom Helping Hands for Freedom, a local nonprofit organization that provides emergency financial assistance to military and Gold Star families who have lost a loved one, or to those who are suffering with injuries from combat, including PTSD and TBI.
Career Clothing Drive: The Bank's Culture Club hosted a career clothing drive to support those entering or reentering the workforce. The clothing drive was sponsored by two fabulous nonprofit organizations: Live and Learn AZ and the André House. The Bank collected new and gently used career clothing for men and women at both our Phoenix and Scottsdale locations.
Fun Time for a Good Cause: As an Associated Minority Contractors of Arizona member, Republic Bank of Arizona participated in and helped sponsor the AMCA's 20th Annual Contractor's Golf Classic at the Arizona Biltmore Golf Club March 5. The annual tournament supports the AMCA Scholarship and Education fund for ASU and U of A construction school students.
December's Toy Drive: The RBAZ Culture Club sponsored its annual holiday toy drive, this time to support Arizona Helping Hands, an outstanding organization that provides essential services to children in foster care. The goal of the toy drive was to give each child two toys and a book to brighten their spirits during the holiday season.
Joining Forces to Support Our Community
July 8, 2020
Republic Bank of Arizona was proud to join forces with several other Associated Minority Contractors of Arizona (AMCA) members to support the St. Mary's Food Bank. Together we delivered 1,200 pounds of food to the Food Bank with a monetary donation of $230! Thanks to the AMCA for organizing the food drive and supporting families at this critical time. An outstanding team effort for a great cause.
Literacy is Our Focus for 2020
Updated March 27, 2020
Literacy will be the theme for many of the Bank's community service activities in 2020, according to Chief Credit Officer Amy Lou Blunt.
"We will be engaging in a number of community service projects in support of different forms of literacy, including financial literacy," explained Amy who heads up the Bank's Culture Club, a group of high-energy, community-minded staff members who organize the Bank's service activities and events.
Kids, Books and Lunch Bags
The first program of the year was in support of Valley of the Sun United Way's BOOK-IN-A-BAG program, says Amy. "We began with a book drive, asking employees and clients to donate books for children from kindergarten to 3rd grade. The drive was a HUGE success and we collected over 250 new and gently used books!"
Thanks to all those who contributed to making the drive a success. We sincerely appreciate all the employees, board members and customers who donated to the drive.
Next, we will bring the books to life by decorating a paper lunch bag for each book with favorite characters, words of inspiration, or something that supports the theme of the book. Due to the safety concerns surrounding COVID-19 situation, the decorating portion of the drive has been postponed.
Getting Kids Reading Ready
Next, the Bank is participating in the United Way's virtual tutoring program, Vello. Vello is an innovative, one-on-one tutoring program that will match tutor teams with local classrooms for guided reading support.
The Bank's volunteers will tutor students in reading through a safe and secure digital setting. Together, students and their "tutors" will read e-books using screen sharing and audio. The Bank's efforts will benefit three elementary schools in a local Phoenix School District.
Financial Literacy
On the financial literacy front, RBAZ plans to participate in an entrepreneurship program to help active duty service members and military veterans prepare for the business world. The program will provide instruction and information on financial literacy and business fundamentals such as how to develop a business plan and prepare for financing.
"We're very excited to participate in all these worthwhile programs in our community," says Amy. "I'm proud of our team for their willingness to give their time and expertise to help others. Community service is one of our core values, but everyone understands you can't just say it … you have to live it."
Another Great Food Drive Success
December 11, 2019
There were cans aplenty at Republic Bank of Arizona. We want to thank all the employees and customers who made this year's annual food drive benefiting St. Mary's Food Bank a success! Special thanks to the bank's Culture Club for keeping the drive alive with fun games and activities.
It's always a pleasure supporting nonprofits like the St. Mary's Food Bank! We appreciate all that you do at this time of year, and throughout the year.
UMOM Walk Breaks Another Record
September 30, 2019
Flip flops were definitely flopping loudly as Republic Bank of Arizona joined the UMOM New Day Center's 11th Annual Walk to End Homelessness at the Phoeniz Zoo on September 21. A whopping 1,942 walkers hit their stride in flip flops, breaking the Guinness World Record for the largest walk in the unconventional racing footwear. RBAZ raised a total of $560 for the event, which had 2,668 total walkers! The largest walk in the organization's history.
Congrats to the UMOM New Day Center for another successful event, and thanks to the RBAZ employees who participated.
Great Turnout Highlights Scottsdale Branch Grand Opening
August 14, 2019
We had a great time celebrating with clients, colleagues, board members and neighbors at the Ribbon Cutting and Grand Opening of our new Scottsdale branch. What a great turnout. Thanks to the Scottsdale Chamber and all those who attended for celebrating with us.
We look forward to serving the Scottsdale business community at our new branch located at 6909 E. Greenway Parkway, Suite 150. Stop by and visit us soon, and meet our awsome staff. We're very excited to join the Scottsdale business community.
5 Ways to Foster a Caring Culture
December 2018
As a community bank focused on serving local businesses, we understand the importance of giving back to the communities we serve. Customers and employees want to know that the businesses they patronize and work for have values that align with their own. But we also know we can't just say we're committed to our communities, we have to show it.
Here are five ways we've found to help foster a caring culture at Republic Bank of Arizona:
1. Make Giving a Core Part of Your Culture
While community involvement and participation has always been a company core value, we recently formalized it by instituting the Culture Club made up of five "go-getter" team members led by a member of executive management. The Club has an official Manifesto with clearly outlined goals and objectives. While we encourage participation by the entire staff, the Club members act as the inspiration, the collaborators and the leaders for the activities, which will include community outreach, as well as internal activities.
2. Be Creative and Have Fun
Yes, that takes planning and effort, but it is well worth it. For our annual food drive, we create teams that compete for prizes, weekly events that require a food or cash donation to enter, and mystery prizes throughout the week to encourage ongoing food donations. And there's nothing wrong with incorporating a little friendly competition to really spice things up. At the end of the drive, each of our teams build some type of structure with the food items collected, which is then judged. The winning team wins a fun prize. But most importantly, several pounds of food are donated to St. Mary's Food Bank.
3. Recognize and Support Individual Volunteerism
Support those employees who participate for their own reasons by offering paid time off, if needed, to volunteer. Recognize their individual efforts by featuring their volunteerism in the company newsletter. Acknowledge their efforts at employee meetings and on social media so they see the impact of their involvement on others and feel the company's support for their individual efforts.
4. Choose Causes that Resonate with Employees, Customers & Shareholders
On occasion, we are asked by customers and shareholders to support specific activities important to them, and whenever possible, we will. For example, we formed walking teams for two very worthwhile organizations, NEEDA and UMOM, at the request of a shareholder and a customer. The Bank paid the employees' registration fees and provided t-shirts to those who participated. Choosing causes that resonate with your employees, customers and shareholders is really a win-win, by supporting a great cause as well as the individual requesting your participation.
5. Lead by Example
And finally, and perhaps most importantly, management must lead by example. Our president and CEO has been a member of the Phoenix Rotary for 23 years, and participates in a number of community activities as part of that organization. Ralph and our executive team "walk the talk" by organizing and participating in our community support activities. Board Chairman Alan Sparks encourages and supports the Bank's community efforts and has identified that as one of his priorities and chairman.
While these steps have worked for Republic Bank of Arizona, building a caring culture takes commitment and energy, but perhaps most importantly, transparency. You cannot fake it. Businesses need to be genuine in their commitment to local communities. There are many, many ways you can help your local community. Find a cause that you and your employees can get passionate about, and go for it!
Grinch-Free Food Drive Yields Over 700 Meals
December 2018
The competition was fierce. The creativity was phenomenal. And the participation outstanding.
It's official … the Bank's 2018 St. Mary's Food Drive was a can-tastic success!
This year's annual event featured bake sales, potlucks, game day fun, family meal competitions, mystery food days, and the final event, the Can-struction competition. The events helped keep the (food) drive alive and resulted in six food drive boxes over-flowing with much-needed food items for families in need throughout the community.
Here's how the events played out:
Bake Sales & Cake Walks – RBAZ staff baked up a storm and donated scrumptious treats to sell during the day and use for a cake walk. The entry fee to participate in the cake walk was, of course, donated food items. What a delectable idea!
Game Day Fun – You could feel the competition in the air as staff members challenged each other to Scrabble, Jenga, checkers, Backgammon and more … but it was all in good fun. And you had to pay to play in the form of food drive can-tributions.
Mystery Food Days – Each Tuesday, team leads would select one item from the list of most-needed foods as the "mystery" item. Whoever brought that particular item in that day won a prize.
Family Meal Competition – Keeping the needs of the families in mind, the two food bank teams were challenged to present a themed meal from appetizers to dessert using the donated food items. The presentations were judged and the winning team won a prize for their Italian-themed meal.
Can-struction Competition – The final event was a highly creative, fiercely competitive challenge to build a structure using donated food items. The two structures featured The Bridge to End Hunger and The Road to Bountiful. The two creative structures were judged and the winning team won a fabulous prize.
In the end, the Bank's donations totaled 930 pounds! That's enough to provide 775 meals for hungry and food insecure Arizona families. Read more about how RBAZ has fostered a Caring Culture.
RBAZ Helps Make History

Published September 2018
Walking proudly in flip flops, the Republic Bank of Arizona's Community Service Team participated in the UMOM New Day Center Walk to End Homelessness on Saturday, September 22. The team not only helped raise awareness for those experiencing homelessness - we also made history.
The walk at the Phoenix Zoo unofficially broke the world record for the largest 1k race in flip flops. The offical word will come in the next few months. Supporting our local community is one of our core values, and this was one fun way to do it.
We thank all those who participated, including our team leader Nathaniel Spatz. We also want to thank client Karie Cowden, founder of Connect the Dots Promotions, for inviting us to take part in this worthwhile event to raise awareness and funds to help UMOM provide shelter, services, and affordable housing for families, single women and youth experiencing homelessness.
7 Ways to Simplify Your Website Redesign

Sue Thomas • Marketing Manager, August 2018
I read recently that businesses should redesign their websites every few years. It took a bit longer for Republic Bank of Arizona to accomplish this. But we did it! Our new site launched in June.
For many business owners, a website redesign is a laborious task that feels, at times, endless. But the process is definitely worth it. It's a chance to reexamine how you want your business to be represented. For us, it was a great opportunity to update our website in step with our new name, new brand, and new location.
While fresh from completing the process, we offer a few tips for businesses considering a website redesign of their own.
1) Get help from the pros
Assuming you don't have an internal web development team, find the budget to hire a website design company. We contracted with a company that develops websites specifically for financial institutions. With this contract, we get ongoing support with a dedicated account manager, quarterly analytics reports, technical support and more.
An experienced vendor can guide you regarding best practices, changing trends, ADA requirements, security and regulatory compliance, and more. Shop around, get references, and conduct interviews. Your online presence says a lot about your company, so make sure it's sending the right message.
2) Assemble your team
The size of your company will most likely determine the size of your team. But at the very least, your team should include:
You, the business owner/CEO. Even if you're not "creative" you know what you like, you know your brand, and you know how you want your company presented.
Marketing liaison to work directly with the website vendor and the company decision makers to manage the timeline, collect feedback, provide content and design direction to the vendor, and generally keep the project on track.
Legal/compliance representative, at least for final review and signoff.
Internal IT support, if applicable. You don't want to create a site the IT team can't support.
Any additional key executives or decision makers as you see fit.
Keep this core team to a limited number of key members. Too much input and too many opinions can do more harm than good.
3) Establish a solid framework
This is another great benefit of working with the pros. They know the questions to ask the core team to get a solid understanding of the company, objectives for the website, website users, content, and overall design. These "deep dive" investigative sessions are priceless and should provide a great foundation for the website design team to get pretty close to an overall structure, look, and tone for the new site.
Provide the vendor sample websites you like. For our site, we requested the vendor send us links to other sites they developed for financial institutions of a similar size and mission, from which we were able to give them feedback on what we liked and/or didn't like.
4) Understand the site map
The site map outlines the architectural structure of your website. Make sure you understand it from top to bottom. Ask questions or view sample sites if needed. Once the site map is approved, the developers begin building and coding your pages. Making changes to the site map after it's approved can be costly and can impact the timeline.
5) Provide clear and detailed feedback
In most cases, the website vendor will provide pdfs of your home page and several interior pages. It's critical that the core team review these pages carefully, providing clear and detailed feedback to the marketing liaison, who will provide consolidated feedback to the vendor. This is the time to ensure the design and tone are on track.
6) Be patient
The development phase of the project will take several weeks. It's a lengthy process those of us not in the IT world may not understand. Or perhaps the review process takes some back and forth to get the right look. For us, it was images that seemed to offer the most challenge. Be patient. The vendor wants to get it right, so stay with them. Providing feedback and approvals in a timely manner will help keep the project on track.
7) Get training
Once the website is complete, make sure those assigned to keeping it up to date get the training they need. Once we received the development site to review, we did many of the content changes ourselves to get an understanding of the CMS.
Ask for help understanding the analytics of the site as well. You'll want to know how your new site is performing, compared to your previous site. Hopefully it's positive, but if not, you may need to take a second look to determine why.
Respect Arizona's Summer Heat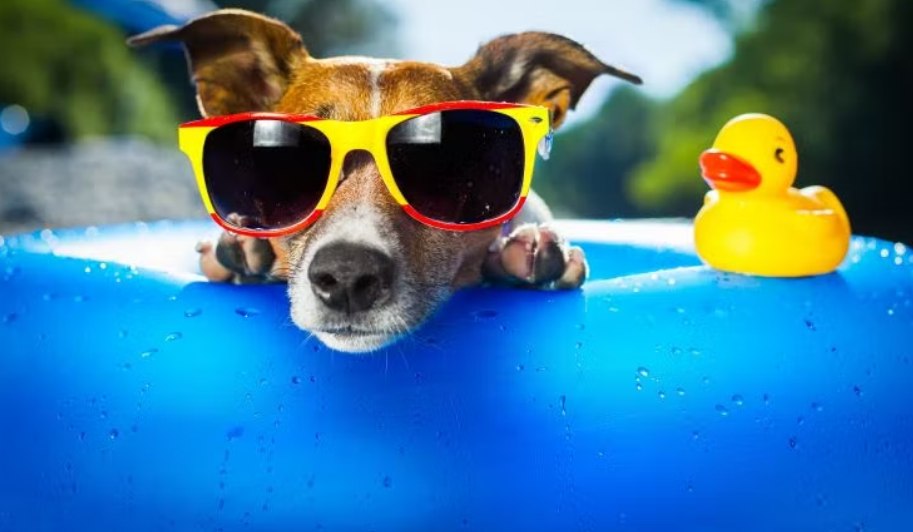 Updated June 2022
Here are things you can do to lessen the impact of summer's extreme heat:
o Drink water, more than usual, and avoid dehydrating alcoholic, sugary, or caffeinated drinks.
o Wear lightweight and light-colored clothing. Businesses might consider relaxing the dress code if appropriate.
o Eat small meals and eat more often.
o Monitor those with a higher vulnerability to heat, including small children.
o Check on employees, family, friends, and neighbors, especially the elderly.
o If engaging in outdoor activity, take longer and more frequent breaks and avoid the hottest parts of the day.
o Provide complimentary bottled water for customers.
o Recognize the signs and symptoms of heat-related illness.
Signs of heat exhaustion:
o Cool, moist, pale skin
o Headache, dizziness, weakness or exhaustion
o Nausea
Signs of heat stroke:
o Vomiting, confusion, a throbbing headache
o Decreased alertness or loss of consciousness
o High body temperature (above 105 degrees)
o Hot, dry skin
o Rapid, weak pulse and rapid, shallow breathing
o Seizures
Don't Forget Fido
Pets need extra care as well during these extreme temps:
o Limit exercise to early morning or evening hours
o Walk your dog on the grass if possible
o Carry water with you to keep your dog from dehydrating
o Provide ample shade and water. Add ice to water when possible
o Make some frozen treats for your pets. Find recipes online
o If your pet likes water, hose her off, turn on the sprinklers, or let her play in a small play pool