Spotlight on Compliance Officer Rhonda Kaiser
Mastering the Black & White World of Banking Regulations
RBAZ Compliance Officer Rhonda Kaiser got her start in banking in an administrative role in 1989, but it didn't take long for her to see banking fit her personality and skill set. After testing her skills in a few different banking roles, including loan underwriter, Rhonda soon learned that mastering the complexities of banking regulations from a compliance standpoint intrigued her. "I'm kind of a black and white person, so I had a knack for it," says Rhonda. "I wanted to know what was needed and why. I'm drawn to understanding how things work. It's just part of my personality."
She feels fortunate to have been provided opportunities to move into various roles in banking, which allowed her to land the job that best fit her skills and personality … bank compliance officer. Of course, there were tests to take and certifications to complete before she could assume the official title, but that didn't deter her in the least. They weren't easy, but Rhonda successfully achieved all the requirements needed.
Doctor's Orders: Move to Arizona
Moving to Arizona from Wyoming for health reasons, Rhonda began working as an auditor for the Arizona State Lottery. She was able to get back into the banking industry by accepting a compliance officer position with Mutual of Omaha Bank. When a position with Republic Bank of Arizona became available, she jumped at the chance to work with a local community bank.
Eighty-percent of her daily job involves keeping the bank safe from fraud … a daunting task to say the least. She also ensures the bank is following all government regulations of this highly regulated industry, monitors the staff's compliance training requirements, and generally helps the board and executive management make sound decisions by assessing the risk of various activities.
"The role of a bank compliance officer is not an easy one," says RBAZ President and CEO Brian Ruisinger. "Rhonda brings a sense of calm and reassurance as we know she's looking out for us and keeping us on the straight and narrow in terms of complying with all banking regulations. She knows her stuff and we are grateful to have her part on our team."
Love of Family
When not working, you may find Rhonda reading, traveling and -- most importantly -- spending time with her family which includes her beloved puppies, two adult children and four grandchildren. Her love of the ocean takes her on cruises and to beaches here and abroad. Her interest in forensic genealogy led her to discover she's related to some famous people, and uncovered some scandalous behavior on the part of her great-great grandfather. Intriguing indeed.
Spotlight on Banker Yvonne Verdugo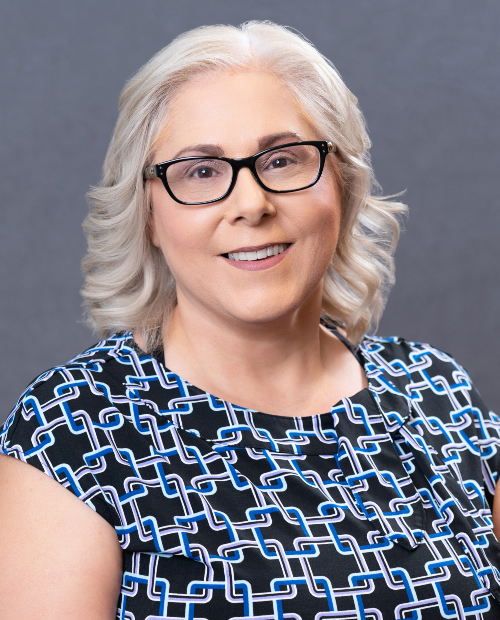 Yvonne Verdugo Stats
Years in Banking: 30 +
Joined RBAZ: August 2015
Moved From: California
First Job: McDonald's Cashier
Fun Fact: Vocalist, she sings at weddings and other events
A Skilled Banker, She Chose to Extend Her Career at RBAZ
Versatility and experience. Those attributes are what come to mind for Yvonne Verdugo when asked about the strengths she brings to her job as an RBAZ Universal Banker. One of the longest-tenured employees at the Bank, Yvonne has spent nearly 30 years in the business.
Yvonne never set out to be a career banker. She sort of fell into it when she and her husband moved from California to Arizona to start a new church. She needed a job, and a friend told her about a teller position at what was then a major local bank. She spent 24 years at that bank, which later become Chase, where she gained tons of experience working in various branch roles. She was hooked. Until cutbacks came, and she found herself looking for another job.
Fortunately for us, she landed at Republic Bank of Arizona where the slower pace and friendlier, community-bank environment turned out to be exactly what she needed at that time in her life.
Like Who You Work With
No matter where you work, Yvonne feels it's critical to like what you do and who you work with. Her position at RBAZ offers her both. An extremely flexible and versatile member of the team, Yvonne services customers on the teller line when needed, but is also a critical component of keeping the deposit operations side of the bank running smoothly.
"We do it all," she says of the operations team. "We handle all the wire requests from beginning to end, general ledgers, exception reports, and customer deposits. We always have things to do and keep busy."
Every Day is Different
Her strong knowledge of the operations side of the bank from her many years in banking is a major benefit to the bank. "I like that not every day is the same," she says. "When I'm working the teller line, I like interacting with our customers. I also like the Operations aspect and making sure all the Is are dotted and the Ts are crossed."
"We're very fortunate to have Yvonne here at RBAZ," says RBAZ Banking Manager Cathy Mireles. "She's a veteran banker who brings a lot of knowledge, expertise, and stability to the team. Her quiet demeanor creates a calmness in a sometimes hectic environment and we all appreciate that."
Zumba and Grandkids Keep Her Busy
When Yvonne leaves work, you'll find her heading to Zumba class, which she thoroughly enjoys. A mother of two adult children and grandmother of four, Yvonne spends her free time hanging out with her family and doting on those grandkids, who definitely keep her on her toes.
Spotlight on Portfolio Manager Patrick Sutter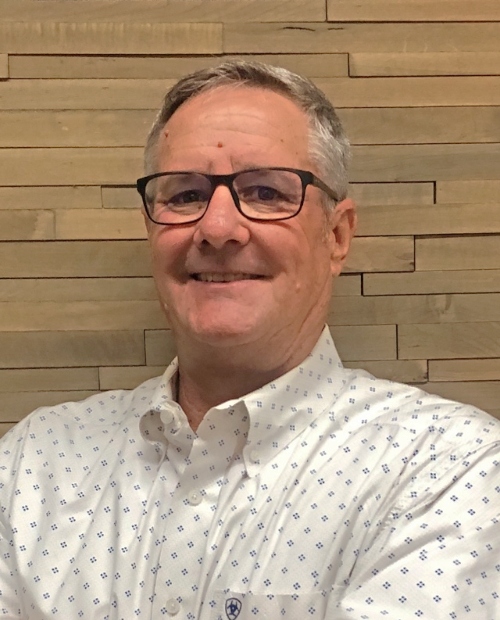 Patrick Sutter Stats
Started with RBAZ: August 2020
Years in Banking: 25+
First Job: Paperboy at Phoenix Gazette
Fun Fact: Graduated from ASU with a BS in Marketing
Generations of Commitment to Arizona
What can a fourth-generation Arizona native bring to a company like Republic Bank of Arizona?
A deep sense of commitment to the local community … exactly what RBAZ looks for in its people.
Banker Patrick Sutter is a special breed. Banking is in his blood and Arizona is his heritage. "My dad had a mortgage company and my three brothers are all in banking, mostly real estate lending," says Patrick. "I started working for my dad when I was 16, doing whatever was needed."
What was "needed" was everything from conducting construction inspections to preparing lending documents to providing risk analysis. While Patrick got his start working for his father, his banking career spans 25 plus years working for a variety of large and small financial institutions. Throughout his career, one thing remained consistent … his specialization in construction lending.
In fact, Patrick's experience and knowledge in real estate and commercial lending is a valuable resource for the bank and its customers. "It does require a bit of specialized knowledge and understanding of market conditions and budgets," explains Patrick. "It takes the ability to determine a contractor's capacity to perform, execute and deliver the product you're funding. And knowing how to balance the risk with your confidence in the builder to complete the project." A weighty responsibility indeed.
Small Bank Brings Big Satisfaction
Having worked for both large institutions and smaller community banks, Patrick enjoys the less bureaucratic environment that Republic Bank of Arizona offers.
"What I really like is that I'm always busy," says Patrick. "There's no sense of being micromanaged here. You have the freedom to contribute as much as you can. If you can't figure something out, you ask or move over and let someone help."
Patrick joined the Bank at the height of the Paycheck Protection Plan loan application and approval process. He truly hit the ground running and hasn't stopped.
"I've known Patrick for several years," said Chief Credit Officer Amy Lou Blunt. "He's connected to the community and is eager to help local businesses succeed. He's passionate about providing first-class, personal service to our clients, and we are fortunate to have the benefits of his lending knowledge and expertise."
When not working, you can find Patrick spending time with his family, or vacationing in Flagstaff or Rocky Point.
Spotlight on Treasury Manager Karen Vitkovich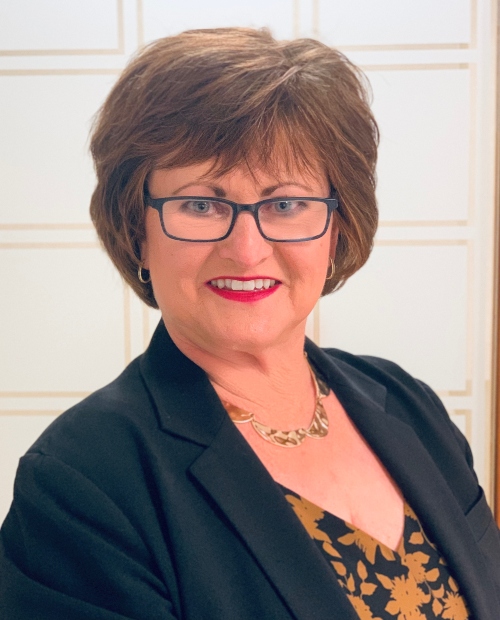 Karen Vitkovich Stats
Joined RBAZ: May 2019
Years in Banking: 40
First Job: Drug store pharmacy
Volunteer: Animal shelters & Food Bank
Fun Fact: Married 40 years to her high school sweetheart
Cultivating Relationships & Veggies
Some would call it fate. Others simply a right time, right place occurrence that led Banker Karen Vitkovich to a career in banking. Whatever you might call it, she started working in banking 40 years ago and never left. She was hooked.
"I started in banking because my father was ill and I needed to work to help my mom," reflects Karen, RBAZ's Treasury Management officer. "We had a friend who worked for Valley National Bank, a major local bank at the time. He helped get me a job and here I am still in banking 40 years later."
One thing for certain, Karen thrives in her role at RBAZ. A people-person to the core, Karen loves meeting new people and cultivating long-lasting relationships, whether in her personal or professional life. It's just her nature.
But it takes more than being great with people to become a skilled and successful banker. While she believes her personality contributes greatly to her abilities to build longstanding client relationships, it's her extensive experience in many areas of banking combined with her deep and pervasive network that drive her success. "I network heavily and stay very active and involved," says Karen. "People know me as a banker who will give them the attention they need and deserve. From responding to emails to holding their hands when needed. I truly believe clients deserve the very best from their banker."
Community Banking: It's a Culture Thing
After a strong and lengthy banking career at a large national bank, Karen needed a change. "I loved what I did," says Karen, reflecting on her years of working for the "big banks". "I learned so much and the diverse training I received was amazing," she says. But she began to feel a definite shift in the culture and philosophy working for a large national bank. "It felt like they no longer believed in building relationships with customers. I needed to be with good people, where I'm not micro-managed and can actually feel like I contribute to the company's success."
That's when she joined Republic Bank of Arizona. The bank's culture really drew her in. "The fact that we're small, we're able to actually see how we contribute to the company's success," she says. "It's been the most rewarding part of my career."
"Karen's diverse banking background and spirited, energetic personality make her a great asset to the Bank," says CEO Brian Ruisinger. "She is very dedicated to her clients and they know she is truly on their side, doing whatever she can to support their financial needs. And she is fun to be around, which is a real plus in today's environment."
Working for Her Community
Karen works hard for her community as well, which is not too surprising. She's on several nonprofit boards and committees including Community Associations Institute Arizona, Associated Minority Contractors of Arizona (AMCA), and the Alliance of Arizona Nonprofits to name a few. She also volunteers at local animal shelters (a true dog lover) and the St. Mary's Food Bank.
Digging up the Dirt
To say Karen has a green thumb is a true understatement. She's an avid gardener and grows the majority of the produce she and her husband eat. A native Arizonan and city girl, she taught herself to garden and cans many of the vegetables she grows. She loves experimenting with different dishes and cooks with ingredients fresh from her garden.
When not up to her elbows in plants and compost, you might find Karen cooking, wine tasting with her husband and friends, or playing with her two rescue pups who she adores.
Spotlight on Chief Credit Officer Amy Lou Blunt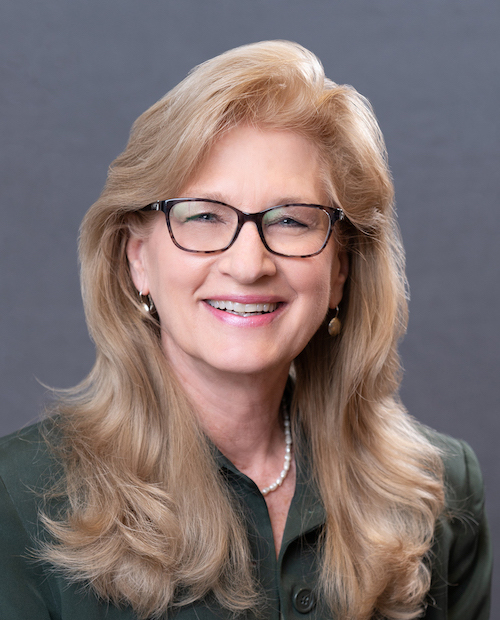 Amy Lou Blunt Stats
Amy's Fun Facts
Years in Banking: 20+
Years at RBAZ: 5
First Job: Radio Shack Sales
Hobbies: Playing piano, crochet, horseback riding
Started Playing Piano: Age 4
Always In Tune with Her Clients
She may not have started out to be a banker, but a lot of colleagues and customers sure are thankful she fell into a career in the financial services industry. Republic Bank of Arizona's Chief Credit Officer Amy Lou Blunt wears a lot of hats, but seems to do it flawlessly.
Not only does she manage the lending and credit activities for the Bank, she also serves on the executive team, is the Bank's Community Reinvestment Act Officer, and heads up the bank's Culture Club to ensure the Bank meets its community service goals.
While she may not have always dreamed of being a banker, she did know she wanted to strike out on her own path. She was one grade behind her older sister in school, and shared a common interest in piano. Her sister pursued a career in performance; however, it felt time for a little separation. So, while both she and her sister grew up playing piano at a high level, Amy decided to major in Accounting at ASU.
Following her first job managing a local Radio Shack store, a 60-hour work week was not particularly appealing. She applied for a job as a teller at what was then First Interstate Bank, and a short time later, was recruited into the management training program and moved quickly through the ranks.
She rose to a prestigious position as a National Accounts Officer for major national accounts throughout the West. At first, it was exciting and demanding, but, it just wasn't fulfilling. "At the end of the day, I didn't feel like I was making an impact," says Amy. "I wasn't helping to create jobs, bring a new product to market, or improving a client's business performance. It was a real wake up call for me. I knew I wanted to make a difference."
Then, she found it. A job she loved as the Relationship Manager for Silicon Valley Bank, with the task of starting up the Southwest Regional office serving Arizona, New Mexico and Nevada. The job offered lots of variety, which Amy thrived on. Her responsibilities included business development, branding and community awareness, credit analysis and underwriting to support the needs of a broad range of emerging technology-based companies and the venture capital companies that fund them. She was making a difference. It was an exciting seven years, but eventually she hit a ceiling with no opportunities to advance.
Hitting the Right Notes at RBAZ
She altered her path, and found fulfilling roles as Chief Credit Officer at community banks in the Valley. Living most her life in Scottsdale, Amy attended Kiva Elementary School and graduated from Saguaro High School, developing deep ties to the business community that have evolved over the years.
A great opportunity opened up with Republic Bank of Arizona, which was in need of Amy's strong credit skills to help reform and restructure the bank's credit infrastructure. She was an obvious choice to step into the challenging role to build the resilient credit culture the Bank enjoys today. "We have a seasoned team of lenders who rely on credit fundamentals," says Amy. "Yes, we have dynamic economic cycles, but this team has navigated these swings before to help our customers thrive while keeping the bank strong."
The best part about her job? The diversity. "It's always different," she says. "Every loan, every borrower is unique. I'm always learning, things never get stale." Most recently, Amy led the charge for the Bank's active participation in the Paycheck Protection Plan loan program, which was punctuated by long hours and even a few all-nighters. But, it was well worth the effort when you consider the number of local small businesses the Bank was able to support, funding 273 loans to be exact. Amy and her team made a difference for these small businesses.
"Amy is a tremendous asset to the RBAZ team," says CEO Brian Ruisinger. "She has created a strong, credit team and credit culture here at the Bank that other community banks envy. Her leadership and commitment to her team, our customers and the Bank are critically important to our success. We are very fortunate to have her on our team."
All Work and No Play? No Way!
While being the Bank's Chief Credit Officer brings a lot of responsibility, Amy also makes time for social activities at work, and outside of the job. In fact, Amy heads up the Bank's Culture Club which promotes RBAZ's community service activities as well as internal celebrations like birthdays, work anniversaries, health and fitness challenges, education and holiday gatherings to name a few. But that's just in her nature.
"I've always been active in building the company culture, wherever I've worked," she says. "I think it is critical to keep the team cohesive and in tune with the company's culture."
Animal Lover, Pianist and Crafter Extraordinaire
A woman of many talents, Amy is an accomplished pianist and is the proud owner of a 1908 Steinway baby grand piano. And she crochets like a pro, making all types of infant toys, robes and other comfy wearables to snuggle in, donating more than 200 of her creations to local women's shelters. She also loves to ride horses. While she does not own horses at this time, she used to have an Appaloosa named Sunny and hopes to own horses again someday.
Her daughter, Amanda, shares her love of horses, dogs, music and Arizona. She will be moving back from New York City soon, and is planning her future in Scottsdale, where she was born and raised. Amy, her four Chihuahua rescues, and Amanda and her two rescues are looking forward to moving into a newly built home on several acres of land out in the northern desert. With room for horses, dogs, and the baby grand, of course!
Spotlight on Deposit Operations Administrator Frank Smith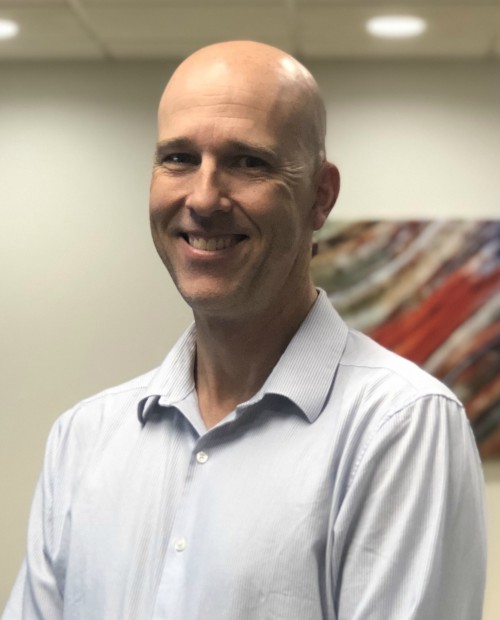 Frank Smith Stats
Year's in Banking: 17
First Job: Fast food server
Hobbies: Mountain biking and fishing
Family: Married with two sons, one daughter and one grandson
Fun Fact: Enjoys reading English literature
Making All the Right (Career) Moves
Frank Smith is a great example of how an entry level summer job can lead to an unexpected outcome – a career in banking with some unusual twists and turns. Having just graduated high school, Frank worked as a check sorter at a Regional Bank in Indiana. Today, Frank is one of a handful of experts in a very profitable, but unique area of banking.
Frank joined Republic Bank of Arizona in January 2020 as vice president of operations. His depth of knowledge and experience in the operations, compliance and risk management side of banking are valuable assets to the bank. Having worked for a number of regional and community banks in the Valley, his range of experience includes IT, fraud prevention, risk management, Bank Secrecy Act activities, and other general operations responsibilities.
"With Frank's extensive experience, we've been able to enhance and focus on the operations and compliance side of our organization," said CEO Brian Ruisinger. "It's so valuable to have folks on your team with such a wide breadth of expertise. Not only that, he's very familiar with community banking and the importance of connecting with your community. We feel we can tap into his knowledge in so many ways to benefit the bank and our customers."
Paving the Way for New Opportunities in Banking
One of the more fascinating and unusual aspects of banking that Frank has developed a keen specialty in is marijuana-related business (MRB) banking. In his previous role, Frank developed and managed an MRB banking program. After four plus years running that program, he's become one of a select few experts in the industry. In addition to his responsibilities in operations, Frank is also building an MRB banking program for RBAZ.
The opportunity to work with the banks' forward-thinking executive management team was a compelling factor in his decision to move to RBAZ. "The prospect of working in a more collaborative evnironment was really important to me," says Frank. "There's a much greater opportunity for an open dialogue here at Republic Bank of Arizona.
"I've been given the opportunity to incorporate my vision into building this program for the RBAZ, which is destined to bring in substantial deposits and fee income for us. I'm very excited for this opportunity."
From English Lit to Accounting
A romantic at heart, Frank graduated from Arizona State University with a degree in English Literature. He later received his Masters of Accounting from University of Phoenix.
Spotlight on Compliance Officer Angela Whitney
Angela Whitney Stats
Years at RBAZ: 8
First Job: Typing car titles at car dealers
Community: Various community outreach programs
Personal: Married with 3 children and 9 grandchildren
Seamstress, Grandma & Compliance Officer – She Does It All "Seam-lessly"
It's her job to make sure the bank follows the rules. And by rules we mean regulations and laws issued by federal, state and local governments who don't mess around when you break those rules.
It's a daunting task, but one that Republic Bank of Arizona Compliance Officer Angela Whitney has the knowledge, experience and expertise to handle with ease.
While her education is in project management, she's worked in the financial industry nearly her entire career, but never on the front lines, always in the back shop. But don't let that fool you into thinking it is boring, blasé job. When you work for the FDIC and Resolution Trust Corporation (RTC) closing savings and loans … it can be pretty interesting stuff.
Homeland Security and US Marshalls
"My first job with the RTC was to fire the entire staff at an RV resort that was stealing money from the vending machines," says Angela. "Here I am, a 30-something woman who never managed people in my life, going in and firing all these employees. That was interesting."
As a bank security officer, she's worked with Homeland Security and the US Marshalls Office regarding suspicious activity; she's answered subpoenas and placed garnishments and levies. She's even confronted the owners of a "connected" bank years ago.
While working with the RTC, Angela was part of a project team that closed nearly every savings and loan in the state. Following the RTC position, Angela acquired more banking experience working at other community banks before joining Republic Bank of Arizona as the Compliance officer in 2013.
No "Zipper Days" at RBAZ
Her job is varied and diverse at RBAZ, which is what she enjoys most. "It's never zipper day here," she says, explaining it's what her aunt would say about her daily activities working at a sewing company. "She would work on specific areas of a garment, like sewing zippers all day, but she never got to work on the full gown. Here, I get to work on the full gown doing a variety of things."
Those "things" include monitoring and reporting suspicious activity, reviewing all marketing and communications to ensure it adheres to compliance regulations, maintaining the bank's policies and procedures, preparing materials for board of directors meetings, conducting and monitoring all compliance training for the staff, and more. She is also required to do ongoing education to maintain her BSA and compliance officer certifications.
"It's been a good career," says Angela. "I've worked my way up from closing banks to opening banks."
"Angela is our compass, ensuring we stay on track from a regulatory perspective," says CEO Brian Ruisinger. "But she does so much more than that, taking on anything we toss her way. She's a real asset to our bank and can tackle just about anything. We're so lucky to benefit from her experience, knowledge and dedication."
Best. Grandma. Ever.
A very proud grandma, Angela is very dedicated to her nine grandchildren and spends as much time as possible with them. An excellent seamstress, she's sewn countless Halloween costumes for her children and grandchildren. "I've sewn everything from pot holders to wedding gowns, but costumes for the grandkids is what I enjoy sewing the most now." she says.
Sewing has been a passion and source of joy for her since her great aunt taught her to sew years ago. In fact, one of her first-ever jobs was selling sewing machines. "I was a terrible salesperson," she says. Thank goodness that didn't deter her from her love of sewing. Angela also enjoys traveling and cooking, having once owned a pizza restaurant in Phoenix.
She is indeed, a woman of many talents!
Spotlight on Chief Financial Officer Christine Haugen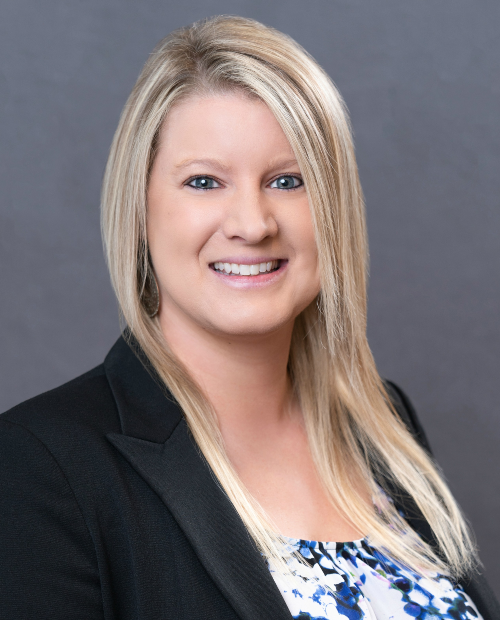 Christine Haugen Stats
Years at RBAZ: 2
Pets: 3, 1 Pomeranian, 1 Chihuahua and 1 Cat
Free Time: Learning country two step and country swing, and spending weekends in Prescott
First Job: Gymnastics and cheer coach
Fun Fact: Christine is a newlywed!
Finding Balance at RBAZ
She's a numbers-crunching ninja who found the work-life balance she was seeking at Republic Bank of Arizona. Before joining RBAZ in 2019 as the Bank's controller, Chief Financial Officer Christine Haugen was clocking some 60-plus hours a week at her previous accounting position, and it was taking its toll.
Now, she feels like she has a life again. "I can actually go to the gym after work, and get home at a decent hour," says Christine. But that's not all she finds appealing at RBAZ. "Honestly, I enjoy everything about it," says Christine. "I enjoy the actual work I'm doing and getting to oversee the entire accounting function.
"I love being part of a smaller institution where I can see that my contribution actually matters, and I am involved in discussions about the strategic plans for the Bank. I enjoy the people I get to work with every day and am excited to be part of the Culture Club that helps plan social and volunteer events for everyone to participate in."
Accounting Proved to be a Perfect Match
Accounting was not Christine's first choice, in fact, it was her fourth major. She started college as an elementary education major, but quickly changed to business, where she dabbled in marketing and finance, and eventually landed on accounting. "When I was a finance major, I had no idea what I wanted to do when I graduated," admits Christine.
"I was required to take an accounting course as part of my business general education and realized that accounting made complete sense to me, and I actually enjoyed it. We had a guest from one of the big four accounting firms in my class one day talking about public accounting and that's when I realized I wanted to start my career in public accounting."
Christine is no novice to the community banking world having specialized in the financial services sector in her previous public accounting positions. "The opportunity to see things on this side of the table was appealing," says Christine about her move to RBAZ. "Now I can see the whole picture."
And she came highly recommended having previously worked with RBAZ's CEO Brian Ruisinger. "I've known Christine for several years, and I know she's a hard-working, incredibly talented and smart individual with a great demeanor," says Brian. "She's easy to get along with, works well under stress, and enjoys being an active participant in our banking community."
Dad Sets a Great Example
Christine's parents, and particularly her father influenced the strong work ethic she employs today. "Growing up, I always admired my dad and wanted to be like him," she says. "He worked to support our family, but he was always home for dinner and attending as many of my extracurricular activities as he could, even when that meant that he would go into work on the weekends.
"Both of my parents taught us that hard work was the key to being successful and to give everything 100%."
Spotlight on Banker Cathy Mireles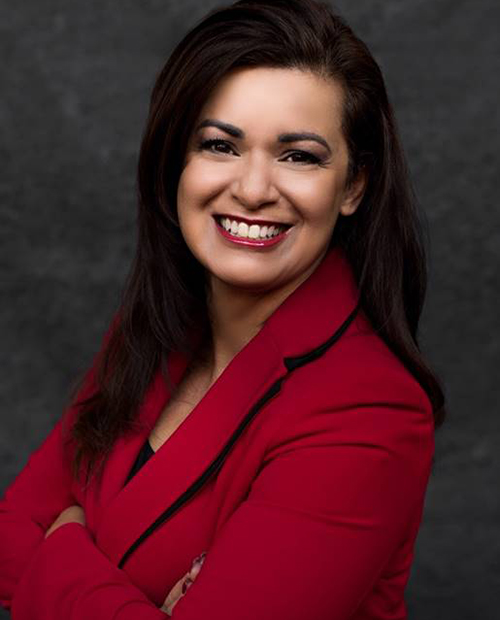 Cathy Mireles Stats
Years at RBAZ: 4
Years in Banking: 30+
First Job: Bookkeeper at a crop dusting company
Personal Note: Does weightlifting training
When it Comes to Serving Clients, She Totally Nails It!
She can swing a hammer like a pro, but her real passion is building client relationships rather than houses. Cathy Mireles,Banking Manager at Republic Bank of Arizona, has built homes for Habitat for Humanity and helped remodel her family's home, but her day job at RBAZ is her true calling, she says.
Cathy and RBAZ's Universal Tellers are a small but mighty team that represents "the face of the Bank." With a banking career that spans 30-plus years, interacting with clients is what Cathy enjoys most about the job. The transition from working for larger banking institutions to smaller, community banks has been a positive one.
Learning the Nuts & Bolts of Banking
"While working for a larger bank seemed more mechanical, driven by sales and procedures, it was good training," explains Cathy. "I learned a lot. But working for a smaller community bank allows the passion you have to assist customers to thrive. For me, it came to light that this is really what I want to do."
Not everything can be found in a procedural manual, explains Cathy. Different situations require critical thinking, and that's where Cathy's previous experience and banking expertise comes into play at RBAZ, guiding the Universal Tellers to find solutions for their customers. "Having that previous experience and training at a larger bank gave me confidence that I can make the right decisions for my customers and the bank."
She first became attracted to the world of banking in high school where her interest in banking came to light during career day. She later attended Teller School and was hired by a major bank in the Valley where she held several retail banking positions, there and at other community banks in the area.
With plans to take some much needed time off to care for her mom, Cathy was approached by RBAZ Chief Credit Officer Amy Lou Blunt, whom she had worked with previously. "I knew Cathy would be a great fit for Republic Bank of Arizona," says Amy. "Her knowledge and experience on the operations side is a huge asset for us, but it's more than that. She's also very caring and compassionate, and brings a sense of warmth and calmness to the job. Our team and our clients really respond to that."
Spreading Kindness in the Community
As a true advocate of the Bank's Caring Culture, Cathy has a rich history of community involvement, building homes for Habitat for Humanity, fundraising for the Homeless Youth Connection to provide housing for at-risk youth, and serving on boards of Leadership West and the Glendale Rotary Club.
Cathy is married with two sons. She also cares for her four dogs while finding time for crafting, working out at the gym, and renovating her home inside and out.
Spotlight on CFO Brian Ruisinger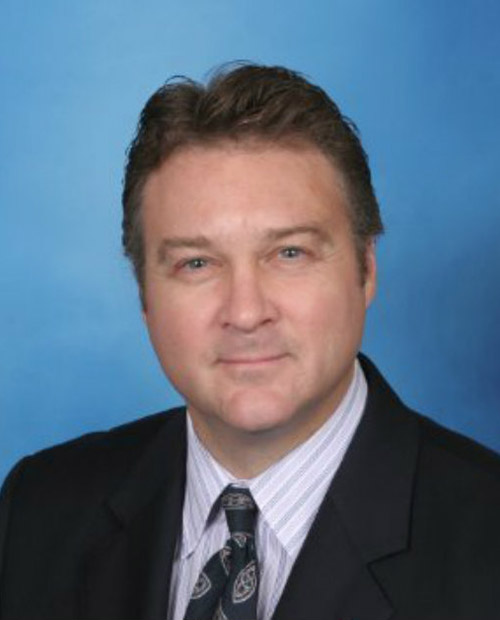 Brian Ruisinger Stats
Joined RBAZ: June 2018
Education: Baccalaureate of Science in Accounting from University of Nebraska
First Job: Picking strawberries
Personal Note: Hails from Nebraska but grew up in the New England area
Rocking the Numbers
Numbers have always been a friend to Brian Ruisinger. A math whiz, the financial industry seemed a natural career path for Brian, Republic Bank of Arizona's Chief Financial Officer. "The financial industry sort of found me," said Brian. While taking a difficult accounting exam designed to cultivate the cream of the mathematical crop, Brian nearly aced it getting just one wrong answer. "I just thought, maybe this is what I'm supposed to do."
His first "career job" was working for Peat Marwick, (now KPMG) one of the largest accounting firms in the country. His job … conducting community bank audits. The rest is history as they say. Brian joined RBAZ in 2018 as executive vice president and CFO, bringing a rich background in both the banking and accounting industries having held several positions in these areas throughout his career.
Anxious to Contribute
Having followed the Bank's progress over the years, Brian pointed to a number of positives that solidified his decision to join Republic Bank of Arizona in 2018, including the Bank's move to a state charter, its team of professional bankers, its financial health, committed Board and its move to a new, updated office location.
"I'm excited to be part of the growing team at Republic Bank of Arizona," said Brian. "As an Arizona-based community business bank, we have a great opportunity to support the financial needs of local businesses. I look forward to doing my part to contribute to the continued success of the Bank and the customers we serve."
Prior to joining the Bank, Brian was president and CEO of Grand Canyon Bank (proposed). He has held similar executive positions with community banks in Arizona, as well as positions as Chief Accounting Officer, COO, Controller and CFO at larger regional banks and other organizations throughout his extensive career.
"In addition to his leadership skills and accounting experience, Brian thoroughly understands the community banking climate and the importance of our local business market," said CEO Ralph Tapscott.
His Top 3
Brian's list of top three accomplishments is an interesting one:
Passing the CPA exam while working at the same time.
Passing that Accounting exam with just one wrong answer.
Winning a free-throw shooting contest at the Elks Club … who knew?
Ruisinger previously served on the Board of the Arizona Bankers Association and maintains active support for the Arizona Humane Society and the University of Nebraska Foundation and Alumni Association. Brian and his wife Linda have two cats that get a lot of attention. When not working, Brian enjoys all things sports … playing and watching.
Spotlight on Banker Jennie Timlin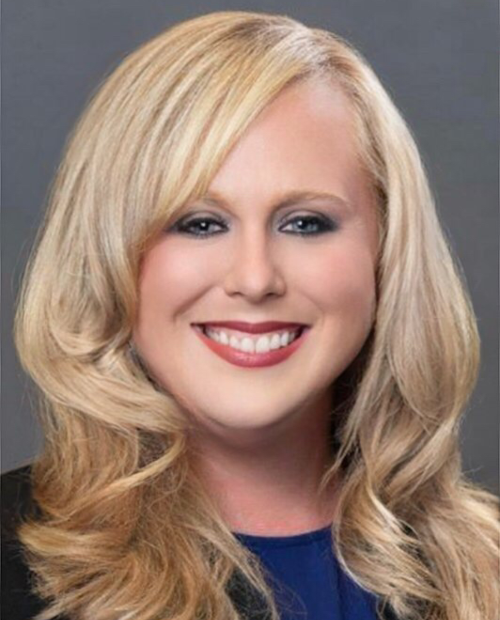 Jennie Timlin Stats
Years in Banking: 20
Joined RBAZ: March 2020
Moved From: Ohio
First Job: Part-time Teller
Fun Fact: Married her high school sweetheart
It All Started with a High School Field Trip
The Community Bank experience is very different from the large regional and national banks … but not just for customers, for employees too.
Banking Officer Jennie Timlin has spent her entire career in banking. When she decided to join Republic Bank of Arizona, she was surprised by how different the environment was compared to the large national bank she came from.
"Here you can have a one-on-one conversation with anyone, including the CEO," says Jennie. "I have learned so much since coming here. You really get to know the whole banking cycle, which you don't get when working at a larger national bank." And that makes a big difference in how community bankers can help their customers, says Jennie.
"The way we service our customers is very different too. It's much more personal and hands-on because we're involved in the whole customer relationship, not just a piece of it."
Since joining RBAZ just over a year ago, Jennie has quickly moved up the ranks, now managing the bank's fast-growing Scottsdale location. Her years in banking in a variety of areas have given her a well-rounded banking background. That coupled with the on-the-job, hands-on training she received here at Republic Bank of Arizona allows her to speak confidently and build trust with her customers and her colleagues that she knows what she's talking about.
"Jennie is a valued member of our team," says CEO Brian Ruisinger. "Her wide range of banking expertise is a real asset to her coworkers and our customers. She has taken on a number of responsibilities and is a master multitasker. Her day-to-day contributions play a big role in the Bank's ongoing success."
Sometimes, You Just Know
For some, choosing a career can be a difficult decision. But not for Jennie. All it took was a high school accounting class field trip to the local bank branch. Intrigued by what she learned, she got a part-time job as a teller and was hooked.
Jennie's banking career has spanned some 20 years working in a variety of positions. She and her husband moved from Ohio on a trial basis. That was 10 years ago … hooked again.
The Importance of Family Time
Jennie has a three-year-old son with another baby on the way. She and her husband are dedicated to carving out time each weekend for a trip to the zoo, waterpark, or some other family activity. While most of her family still lives in Ohio, Jennie tries to see them as often as possible.
Here in Arizona, she is a much-appreciated member of the RBAZ family.